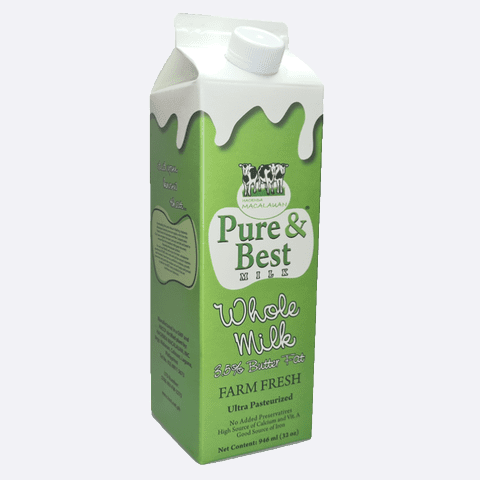 Pure and Best - Premium Fresh Whole Milk
100% Fresh whole milk from Hacienda Macalauan. 
3.5% whole fat 
Product of the Philippines (Hacienda Macalauan) 
How to store: Store chilled in the refrigerator
Made with pasteurized and homogenized local farm fresh milk from Laguna
Shelf life of at least 3 weeks.
If the items are available and payment has been verified before 5:00 pm, we can ship within the day. For orders placed after 5:00 pm, delivery is not guaranteed within the day and may be shipped the next day. For big orders like the Party Tub or Bonanza Tub, the shipping time is 3-5 days.
Where can you deliver? In Metro Manila, we deliver to Alabang, Caloocan, Fairview, Makati, Malabon, Mandaluyong, Manila, Marikina, Novaliches, Pasay, Pasig, San Juan, Taguig, Quezon City and Valenzuela City. Outside of Metro Manila, we only deliver to Antipolo, and Taytay. We cannot deliver to other areas because the great distance from our central kitchen may affect our ice cream's quality, but you can still get your ice cream fix by going to the nearest Merry Moo location.
Delivery time is from 9:30AM to 7PM daily. If orders are placed between 5:01pm onwards, we will try to have it delivered within the same day, if not, then we would deliver the next day.
Loading
Loading
Error
Please click the product and choose available variant. Thank you!